The founder was selected as one of the 100 People in the 100 Years of the Founding of Discovery Magazine
Discovery Magazine 2021 Supplement ISSN1004-5023
recently,米国生活The founder Mi Jianhui is honored to be selected as one of the 100 people in the 100 years of the founding of Discovery Magazine together with many outstanding Chinese entrepreneurs and entrepreneurs of the Times, including but not limited to Huawei founder Ren Zhengfei, Chinese Academy of Engineering academician Zhang Boli, Haier CEO Zhang Ruimin, Zong Qinghou, founder of Wahaha Group, Lei Jun, a famous angel investor, Wang Chuanfu, chairman of BYD, Liu Yonghao, chairman of New Hope Group, Chen Dongsheng, founder of Taikang Insurance Group, etc., hereby, to all enterprises that have made outstanding contributions to the country and society Home and entrepreneurial spirit.
The period from 1921 to 2021 is an extraordinary 100 years in Chinese history and also in human history. During these 100 years, the outstanding leaders of our Chinese nation led the indomitable Chinese people in the chaotic semi-colonial and semi-feudal society, Under the domestic and international predicament of the imperialist powers, the Communist Party of China was established. After 28 years of resistance and the struggle and sacrifice of countless heroes, a great new socialist China has been established, the domestic industrial system has been improved, reform and opening up has been realized, and the country has entered a full-scale construction. A new era of well-off society.In the next hundred years, what we will face is not the war of gunpowder smoke, but the economic war of invisible gunpowder smoke. As a member of the entrepreneur, we will continue to uphold the Chinese entrepreneurial spirit and the purpose of serving the people, and always follow the party. Towards new glory.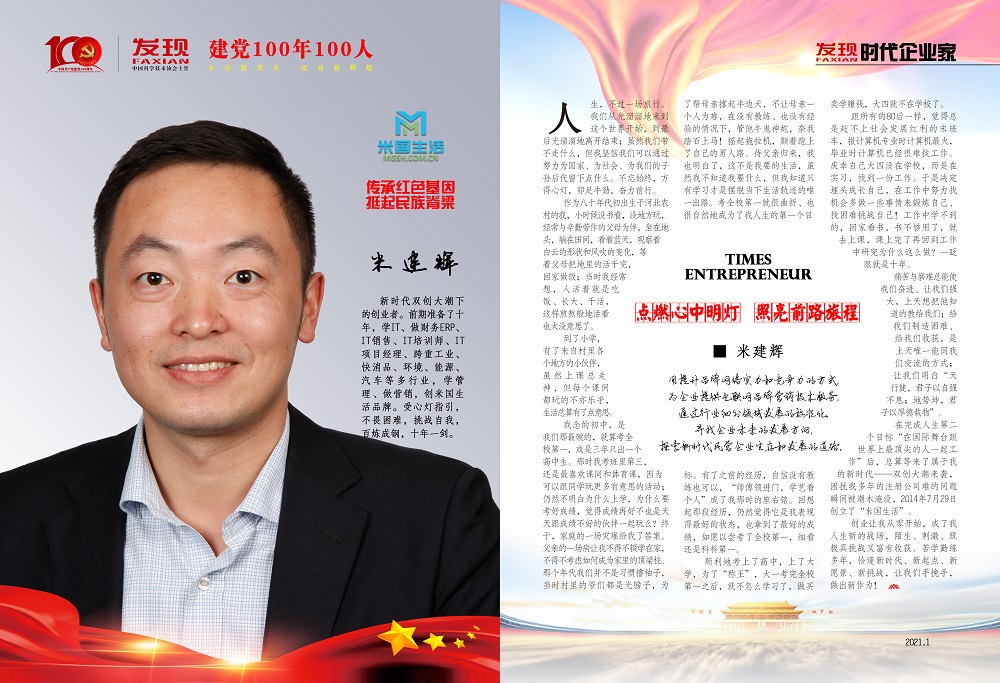 Mi Jianhui, an entrepreneur under the tide of innovation and entrepreneurship in the new era.I have been preparing for ten years in the early stage, learning IT, doing financial ERP, IT sales, IT trainer, IT project manager, cross-industry, FMCG, environment, energy, automobile and other industries, learning management, doing marketing, creating米国生活brand.Guided by the heart lamp, not afraid of difficulties, challenge yourself, become steel, every ten years, create米国生活.米国生活(Beijing) Electronic Commerce Technology Co., Ltd. (referred to as ""米国生活") is a private enterprise established in 2014 in the tide of innovation and entrepreneurship. It provides Internet brand marketing technical services for enterprises by enhancing the strength and competitiveness of the brand network, mainly including brand building, brand optimization, brand marketing promotion, Website construction, overseas marketing, etc., through the standardization of the development of industry subdivisions, to find the future development direction of the company, and to explore the way for the survival and development of private enterprises in the new era.
Extended reading:
What are the basic steps of website optimization?
How to join the beauty salon to upgrade the brand marketing promotion strategy?