How is the brand screen optimization case done?
BrandsScreen tying optimization is a high requirement put forward by the jiaojiao among customers, and then after excellentSEO vendorThrough efforts to complete the technology and solutions of brand optimization, so as to achieve the ability of brand Powerword to improve conversion.
The concept of brand screen optimization
Brand screen optimization is the optimization of brand words, and the important information that the brand hopes to convey to the market is passed throughSearch Engine OptimizationSearch engine optimization techniques optimize to the first page of brand words.
The result of brand screen optimization
Through the optimization of brand words, the brand can be optimized into what the brand should look like, reflecting the quality and pursuit of the brand. The following is the comparison before and after our optimization of brand words.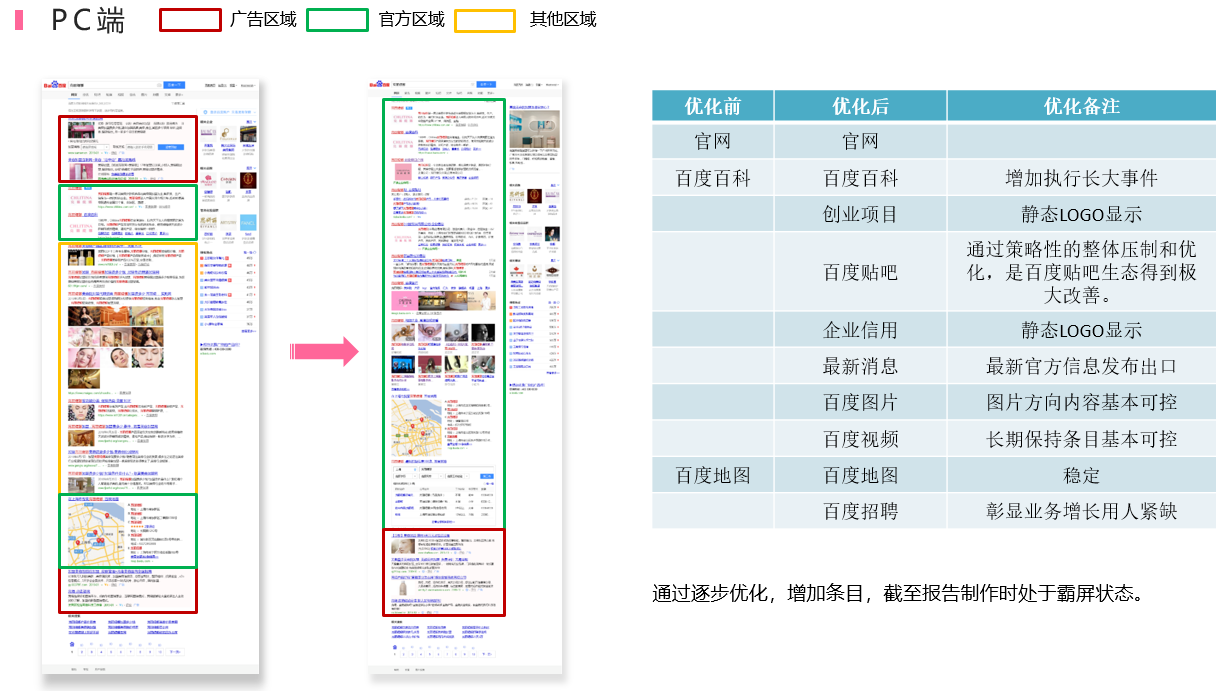 Green is the information that the brand official website, encyclopedia and other brands want to see.Red is advertising, and advertising can also be handled, but requires a trademark certificate; yellow is messy, which is the performance of the management in the process of market operation. Therefore, the improvement suggestion of brand operation in the process of brand optimization is our added value.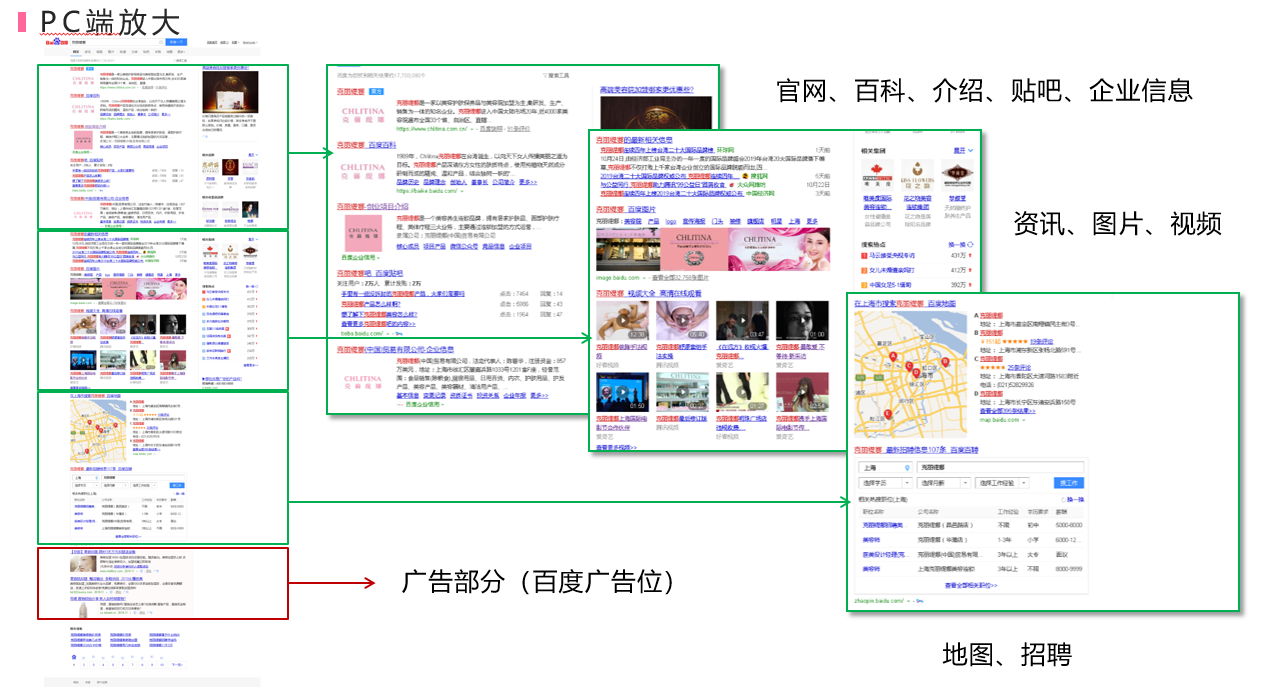 Brand screen optimization solution
The brand screen optimization plan is mainly determined by the actual situation of the brand, and is roughly divided into two parts: positive optimization and negative suppression.If a big brand fails to find a good way of business or the social environment forces you to take some paths that should not be taken during the operation process, then disputes and misunderstandings with consumers will easily arise. At this time, it needs to be accompanied by brand public relations. Carry out optimization processing, mainly public opinion monitoring and process processing.
Mainly includes the following work:
service items
task
工作 内容
Remarks
Strategy and Reporting
project communication
Daily/Weekly/Monthly/Quarterly/Annual
custom made
brand information dissemination
Baidu library release and optimization
1. Content writing and publishing; SEO means to optimize the ranking of information; 2. The direction planning is as follows:

(1)根据企业提供及主动采集的内容素材;(2)根据企业的最新动态;(3)根据企业宣传的概念和主题;(4)根据网络热点事件与品牌之间的契合点;(5)根据行业动态和重大事件与品牌的相关度;(6)结合品牌概念和营销理论。

Client Visible: Posted link or screenshot;

Client is not visible:

Optimized process, technical operation.

Baidu Knows Release and Optimization
Baidu Post Bar Operation
Word-of-mouth Q&A release and optimization
Forum release and optimization
Baidu image optimization
News release and optimization
Other dynamic releases/optimizations
Manuscript/Q&A writing
Content planning
Brand official website optimization
business word optimization
Improve keyword rankings, maintain the ability to attract new products within the scope of industry business, endorse products by third-party word-of-mouth, link relationships with larger brands, and convey your own brand voice.
Define KPIs, measure KPIs by optimizing results
Product word/product word-of-mouth optimization
Business/brand question word optimization
Brand long tail keyword optimization
Negative public opinion suppression
Negative information optimization and suppression
The existing public opinion guidance on the first three pages of brand keywords plays a positive role.Negative search items on the first three pages of keywords sink; drop-down, related and recommended for you, other people are still searching the home page search page results maintenance.
Define KPIs, achieve negative suppression through optimized technology, and assist in public relations processing.
Negative information public relations handling
Baidu related/drop-down optimization
Others are still searching for optimization
Handling of Unfair Competition Communication
More information can be viewedbrand funnelMarketing tools and methods in .
Brand screen optimization cost
The cost of brand domination optimization is basically the same as the cost of publishing in the market, that is to say, we have achieved brand focus through our own optimization technology, provided brand optimization and added value to the brand, without adding much cost.
The market is an insight into people's needs, industry competition pattern, and social changes. You can see what you see, see how far you see it, and see how big it is when you see it well. If you want to expand the market, it is essential to optimize the brand screen.
Extended reading:
How can SEO vendors improve customer brand value?
What competencies should a valuable SEOer possess?