Measure of Google Search Result Ranking - Page Experience
Page experience is included as a measure of ranking in Google search results.These factors measure a user's experience of interacting with a web page and drive our current work to ensure that users get the most helpful and enjoyable experience through the web.Over the past few months, we've seen a 70% increase in median user engagement with Lighthouse and PageSpeed ​​Insights, and many site owners are looking for improvement opportunities through Search Console's Core Page Metrics report.
Google algorithm
Beginning in May 2021, page experience will be a ranking measure.The new page experience metrics combine core page metrics with our existing search metrics, including mobile-friendly,HTTPS securityand intrusive interstitials guidelines.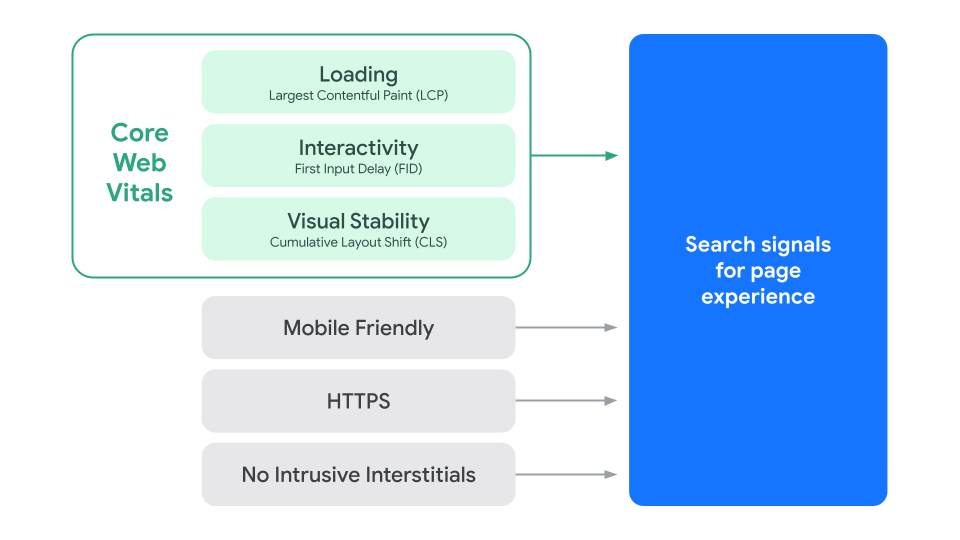 Web Experience Metrics
Web Experience Metrics

Core page metrics

Web pages provide a good user experience, focusing on performance in terms of loading speed, interactivity, and visual stability:

Largest Contentful Paint (LCP): Measures loading performance.To provide a good user experience, try to complete the LCP within 2.5 seconds of the page starting to load.
First Input Delay (FID): Measures interactivity.To provide a good user experience, try to keep the FID within 100ms.
Cumulative Layout Shift (CLS): Measures visual stability.In order to provide a good user experience, try to keep the CLS score below 0.1.

The tools below can help you measure and monitor core web page metrics.

Mobile-friendly

Web pages are mobile-friendly.Check if your pages are mobile-friendly with the Mobile-Friendly Test.

This metric does not apply to desktop devices.If a site has different properly configured desktop and mobile URLs, desktop metrics are based on the URLs seen by desktop users.

HTTPS

The web pages use the HTTPS protocol.Check that your website connection is secure.If your pages aren't using the HTTPS protocol, learn how to use HTTPS to keep your site secure.

No intrusive interstitials

Users can easily access content on web pages.Learn how interstitial ads can make content less accessible.
The tools you need to improve your web experience
In response to these changes, we've released a variety of tools to help publishers start improving the web experience.The first step is to conduct a page audit of the entire site to determine where there is room for improvement.With Search Console's Core Page Metrics report, you can get an overview of your site's performance and gain insight into related issues.Once you spot optimization opportunities, you can use PageSpeed ​​Insights and Lighthouse to iterate and fix any issues you find.To see all the tools for improvement, visit web.dev/vitals-tools.
Google Search's Mission
Google Search's mission is to help users find the most relevant and high-quality sites on the web.The purpose of these updates is to highlight the best experience and ensure users can find the information they are looking for.Our efforts don't end there, so we plan to incorporate more web experience measures in the future, with annual updates.We hope we provide the tools and resources to help you build great websites more easily, leading to a web ecosystem that users love.
Extended reading:
Google SEO Optimization Reference [SEO Terms and Meanings]
Some common operations of Google optimization SEOer
Chapter XNUMX: How Search Engines Work: Crawling, Indexing and Ranking