How SMO Differentiates SEO SEM
SMO: Social Media Optimization
The perfect match between user search behavior and presentation location and high-quality content, replacing information with services, is deeply integrated into user life.
Chinese name: Social media optimization
Foreign name: Social Media Optimization
How it works: SEO and EPR

Abbreviation: SMO
letter logo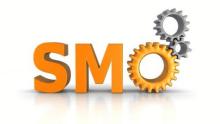 Social media is the content generated by social networks, and the way of publishing social media is many-to-many.Social media content is published by members of a social network and then spread among different groups of people in the social network.As the name suggests, social media is the technology and platform for people to share opinions, attitudes, experiences and various multimedia information, which can be transformed into various social networks.
Social media is the release and dissemination of information to groups of people with common interests. In short, the core of social networks and social media is: people with common interests communicate with each other.People hope to find their own kind on the Internet, and these technologies enable people to find their own friends according to their own ideas, without being locked by other people's ideas.
Social media optimization, or SMO for short, is the use of social media to publish website news to the outside world. This is not to optimize certain elements of the website itself. SMO requires website administrators to join social networks and actively publish website-related news on the network. various content.
By participating in social networks: optimizing the information published on the website can bring traffic to the website.Apart from that, there are many other benefits of social media optimization.Participating in various social networks is free, all it takes is time, don't think SMO is a very easy thing, this optimization requires a lot of time, if you want to make your published content attract the attention of others , you must be familiar with this community and actively participate in it to expand your influence.
Original: Social media optimization (SMO) is a set of methods for generating publicity through social media, online communities and community websites. Methods of SMO include adding RSS feeds, adding a "Digg This" button, blogging and incorporating third party community functionalities like Flickr photo slides and galleries or YouTube videos. Social media optimization is a form of search engine marketing.
Social Media Optimization (SMO) is a comprehensive approach to public communication through social media, online organizations, and community sites.
Original: Social media optimization is in many ways connected as a technique to viral marketing where word of mouth is created not through friends or family but through the use of networking in social bookmarking, video and photo sharing websites. In a similar way the engagement with blogs achieves the same by sharing content through the use of RSS in the blogsphere and special blog search engines such as Technorati.
Social network promotion, Charles once focused on the promotion of web2.0 on the website, and plans to discuss the application of SMO in depth in the following articles!
In Miaoshouren's mind, SMO, that is, Senior Medical Officer, means the doctor of the senior department.Like Jackie ah Joe ah is the MO of A&E.
Development
Later development of SMO: Social media optimization is in many ways linked to a viral marketing technique, which is not based on friends and relatives, but on some social bookmarking, video, and photo sharing sites of network users.As the blog implements, the content can be analyzed using both RSS in the blog field and through special blog search engines such as Technorati.
A. Optimizing the content of social media dissemination
Including: RSS feeds, social news and share buttons, user evaluation and voting tools, forwarding and disseminating corporate videos and pictures in social media.We can:
1. Repost the edited video to Kaixin.com, Renren.com, Weibo, Douyin, and WeChat Moments;
2. Add RSS function to the enterprise's blog;
3. The portal of the enterprise, a one-click sharing button is added to the network content;
4. Use third-party components such as voting and evaluation to interact with users to gain wider dissemination.
5. Add functions like Digg, "Like" function, and optimization of social bookmarks.
B. Promote in daily social media activities
For example, it can be spread through blogs, blog comments, online group discussions, instant messaging, social media status updates, etc.We need to find a suitable platform to accurately transmit information to target customers and form a good interaction.We need to be familiar with the communication characteristics of relevant platforms such as Youku, Kaixin.com, Renren.com, Baidu Tieba, Weibo, Blog, BBS, Haohao Video, Bilibili, iQiyi, etc., optimize social media content, and finally form word of mouth spread.Social media optimization allows content to gain multiple lives, allowing content to travel more smoothly between various social media platforms.From the figure below, we can see that social media optimizes the communication chain.
The first step of SMO: point selection and layout
The core of social marketing is based on the social attributes of users, and users always form a group community based on their hobbies and interests, so enterprises should lock the user group and select the most suitable social media according to the places where they often gather. This is called It is a selection point.
Learn about the selected points and let your team understand the characteristics, laws and user habits of such platforms.Take Weibo, for example, we need to know the occupation, gender, age, time and purpose of Weibo users, and find out what tools are available on Weibo platform and how to spread it on the platform in the most effective way.Another example is Tianya, what kind of people are there, what are their habits, what time period are there many people, what kind of posts are prone to fire, etc.The distribution is deterministic, the audience must be clear, and the most effective platform must be selected for maintenance.
SMO Step XNUMX: Connecting
Connection is to organically combine the previously selected platforms.For example, if you post an event on Weibo, you can then promote it on forums, blogs, post bars, etc.And the activities on Weibo can be settled in the community. After all, the number of words on Weibo is limited, and in-depth cooperation is not possible.For example, Vanke has combined Weibo, video, community, and Baidu Baike to form an all-round communication.
Initiated in the community, spread on Weibo, and with the deepening of the activity, asked questions to guide users to understand, and then established entries, and published information on video and photo sharing websites.In this way, the "full set of services" is to use various media points to connect to form a line, which is better delivered to the user.
The third step of SMO: surface
Based on the previous point selection, layout and connection, the surface is a matter of course.The size of the network port depends on the execution of the process.The more detailed you are at each point, the more connections you have, the denser the network will be, so that you can maximize the number of users.
SMO Step XNUMX: Detonate
Detonation is the last thing an enterprise has to do. The purpose of detonation is to make the brand or service of the enterprise spread quickly.When you gather a group of people in a circle, when there are too many people, there will be fermentation, and there will be discussions in the fermentation, and there will be topics in the discussion, so what the company has to do is to package its products or services in a good image and throw it to them , let your users discuss, and "fan the flames" at the right time, cool down and add water at the right time.Detonation requires creativity, needs to understand their methods, and needs to be guided by planning based on their psychology. The charm of social marketing is also here, based on trust and opinion leaders. Geometric fission word-of-mouth communication
SMO Step XNUMX: Monitoring
Public opinion monitoring is an indispensable part of social marketing, because these social media are free and difficult to control, and it is easy to create a brand and easily lead to a crisis.Therefore, we need to always know what users are talking about, what they are talking about, whether they are complaining or are happy. We need to analyze it through public opinion monitoring tools and capture the latest public opinion information in a timely manner.
The core of social marketing is to use word of mouth to spread word of mouth in social groups.Our social marketing matrix is ​​to keep users in your field of vision at all times. When you have excellent products and services, then you should build a marketing matrix through the five steps of distribution, connection, surface formation, detonation, and monitoring. Let them know you exist.In the future of e-commerce, whoever gets the users online will be half-successful, and whoever can guide these users will surely win.
basic rules
The 16 rules of SMO:
1. Increase Your Linkability The author believes that the amount of link ability depends on the content, and the content must be unique, useful and compelling.However, some strategies still need to be considered, such as publishing content gradually (like a serialized novel) to attract links (attention), traffic (traffic) and subscribers (subscribers), and then complete the integrated packaging of the content.
2. Make Tagging and Bookmarking Easy (makes adding tags and bookmarks easier) Easy Tagging and Bookmarking is very useful, readers will not be so troublesome to share content, thus increasing the chance of content sharing, but the premise is still the content.The same promotion (promotion) is only auxiliary.
3. Reward Inbound Links When someone links to your website, should you "reward" it?Of course, everyone has different views and methods.
4. Help Your Content Travel (content dissemination) There are many channels for content dissemination in social media, and there are many ways of sharing.The traditional influencer concept no longer applies here, and the depth of content dissemination depends on demand.
5. Encourage the Mashup In the era of hybrid social networking, content mixing will be inevitable, and the benefits of content sharing and content mixing will eventually return to content creators.Free music is a typical example.
6. Be a User Resource, Even if it Doesn't Help You (User Resource Library) In the era of social networking, there must be a "give value to get value" perspective.Don't be afraid to lead users to competitors, and know how to help users, so as to truly not lose users.
7. Reward Helpful and Valuable Users (reward those helpful users and valuable users) Helpful users and valuable users will be your valuable resources, how to reward them is a question worth thinking about.
8. Participate It is impossible to understand social media without participating.Engagement is the key to making content ripple.
9. Know How to Target Your Audience Needless to say.Get into the community where Audience is located and make them feel connected.
10. Create Content Create the content your customers want, and keep doing it.
11. Be Real (Be Real) The effect of social media marketing is good, but if the relationship with customers is not handled properly, its negative impact will be huge.As far as Dell Hell Gate, Wal-Mart fake blog gate, as close as KFC "Seckill Gate", learn to communicate with your customers! REAL is an essential element in communication.
12. Don't Forget Your Roots, Be Humble
13. Don't Be Afraid to Try New Things, Stay Freh
14. Develop a SMO Strategy (Develop a SMO Strategy) The formulation of SMO strategy must first have a clear goal and strategy, not just stay in tactics.Success is not in the tools, but in the mind.
15. Choose Your SMO Tactics WiselyThe tools are the same, but the thinking is different.
16. Make SMO part of your process and best practices Incorporate SMO into every stage of the company's DP/PR/DESIGN, etc.
interrelationship
The relationship between SMO, SEO, SEM
SMO, SEO, SEM several abbreviations are: Search media optimization, Search Engine Optimization, Search engine marketing.In Chinese it means social media optimization, search engine optimization, search engine marketing.There are both overlapping and repeated parts among the three, and relatively independent connotations.
Flow formula
Social Growth Rate
X*Y*Z=SGR
X represents how many % of the visitors actually share with his (her) friends
Y represents how many friends each person has shared with
Z represents the chance that the shared person will visit this page
If SGR>1, there will be a great chance of experiencing explosive growth.