Website User Roles Navigation MenuNav-Menu-Roles
Role Navigation MenuNav-Menu-Roles
Plugin description
This plugin allows you to hide custom menu items based on user roles.So if you have a link in the menu and you only want to show this plugin to logged in users, certain types of users, or even only logged out users, then this plugin is for you.
Navigation menu roles are very flexible.In addition to the standard user roles, you can also use nav_menu_roles filter to add its own checkbox with a custom label, then use nav_menu_roles_item_visibility Filters to check any conditions you need to customize the functionality. .You can inspect any user meta values ​​(like capabilities) and any custom attributes added by other plugins.
important hint
In WordPress, menu items and pages are completely separate entities.Navigation menu roles do not restrict access to content.Navigation menu role onlyfor show/hideNavigation menuproject.If you wish to restrict content then you will also need to use the membership plugin.
usage
Go to the Appearance menu and set the "Display Mode" to "Login User", "Logout User" or "Everyone". "Everyone" is the default setting.If you want to customize by role, set Display Mode to Logged in User, then under Limit menu items to minimal roles, check the box next to the desired role.
Remember that roles don't strictly limit who the item can be, but everyone who has that role's abilities. For example: Subscriber和Items set as Subscribers will be displayed by the administrator.Think of this as the minimal role required to view a project. SUPPORT
Screenshots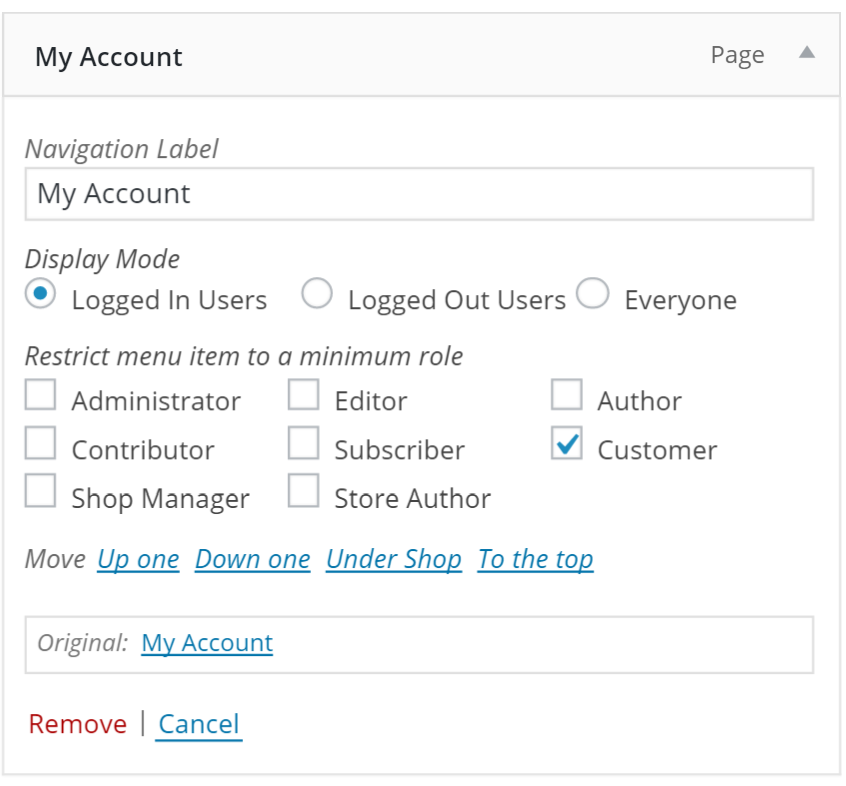 //downloads.wordpress.org/plugin/nav-menu-roles.1.9.3.zip