Detailed steps for changing the mini program to Aifanfan smart customer service to report an error
Detailed steps for changing the mini program to Aifanfan smart customer service to report an error
background:
Since I made the applet, the mobile webpage has lost its ranking, but it seems that the applet has some clicks, but I can't see the visit record of Aifanfan. I want to deploy the applet customer service reception. I found that there is already an old account dasmego. Baidu business bridge customer service for domain name application, but the account is no longer used, in order not to forget the password, temporarily choose to use the account promoted by Baidu, bj米国生活As the login account of Aifanfan, the PC side has been configured, but the data on the applet side cannot be seen, so the customer service of the applet must be replaced.
request:
Ask Baidu to help modify the customer service reception account. According to various understandings of Baidu and the need for quick solutions, I think Baidu has the ability to directly replace and update the production environment database.
information:
Mini Program ID: 17482527
Mini Program Name:米国生活
Bound love fan ID: dasmego
Change and bind the target Aifanfan Baidu promotion account: bj米国生活
Findings from the problem-solving process
The prerequisites for using Baidu Statistics and Aifanfan
Baidu Statistics can be used by any account.As shown in the figure:



If you use the account of Baidu promotion bidding to enter Baidu statistics, as shown in the figure:



We can see that there are more "enable/disable Aifanfan" buttons, and less "authorized website" Tab page (that is to say, only ordinary accounts can be authorized to view the statistical results of websites and customers.)



In the same way, the Aifanfan account can be set to open/close statistics.
Therefore, the change of Baidu Business Bridge to Baidu Aifanfan should be to set the customer service tool to become a dedicated customer service tool for Baidu promotion. It was free before and can be used arbitrarily. Now it must be used by promotional customers.
Baidu did not tell us the reason for the change
When we configure website statistics and website customer service, we often use Baidu Statistics and Baidu Aifanfan (formerly known as Shangqiao), but they can be configured separately or together, which leads to the possibility that we may be in the configuration process. There is a problem with reusing code.
Is it the same as Baidu's statistics?
Aifanfan is the former Baidu Business Bridge. It was used by Baidu Business Bridge and Baidu Statistics in the past. It receives visitors through Baidu Business Bridge, and the visitors return the data to the Baidu Statistics backend; now it is used together with Baidu Statistics and Aifanfan. Fan replaces Shangqiao, but the condition of using it together is the Baidu bidding promotion account.
So why change the name?
Aifanfan and Baidu Statistics are two tools that can be used alone, Aifanfan is for reception, and Baidu Statistics is for statistics.But later I found out that it is very difficult for Aifanfan to log in with the old account, so I won't try other new accounts, and let's use Baidu to promote the account for the time being.
bug report process record
Step XNUMX: Enter AIfanfan Smart Customer Service

Step XNUMX: Click on the main account of the Aifanfan account to change the binding

Step XNUMX: Click on Forgot Password


We found that there is no mobile phone number, click to get the verification code: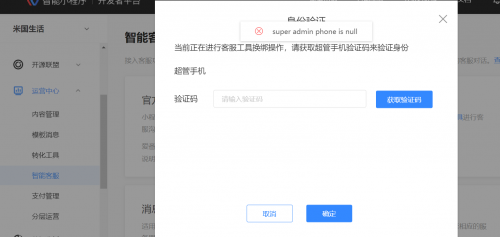 Error reporting super administrator phone number is empty
Hint: super admin phone is null Translation: super admin phone is null
Step XNUMX: Painfully search for the old account password of Baidu Shangqiao
Enter qiao.baidu.com, jump to the new version aifanfan.baidu.com



Login with password recorded in cookies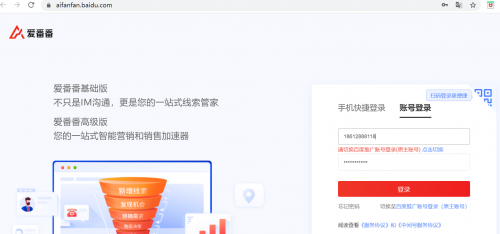 Click to log in, nothing happens.
Click below the mobile numberClick to switch"Blue link:
Please switch the Baidu promotion account to log in (the original main account) and click to switch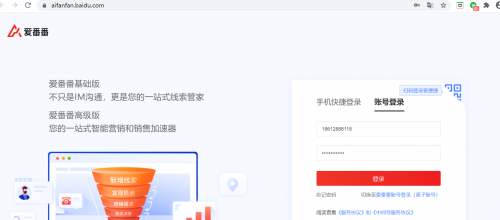 The prompt font below the mobile phone number disappears. Although the Baidu promotion account and the original main account are not the same account, it is enough to disappear.
Click to Login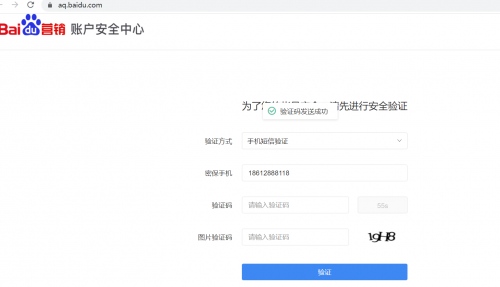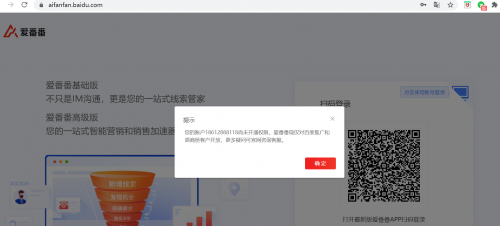 Reminder: Your account 18612888118 has not yet opened the permission. Aifanfan is only open to Baidu promotion and original business bridge customers. For more questions, please contact customer service on the official website.
Crazy, I can still log in when I submit a question two days ago!
Baidu Aifanfan is still in the process of constantly fixing bugs, right?Same operation steps but different bugs.
I can't log in to Aifanfan on my original mobile phone, and there is no response when I click log in.
Use the original account to log in to the login interface in the switch state: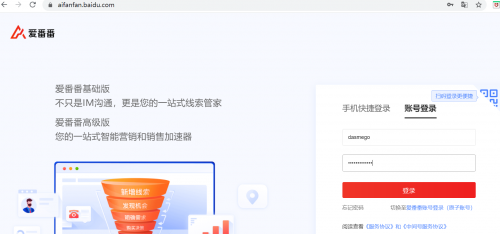 Tip: wrong username and password


After repeatedly trying my own possible passwords, I finally came in: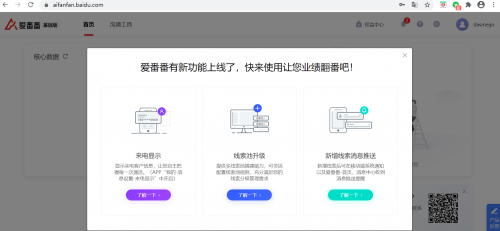 Step XNUMX: Successfully bind Aifanfan super administrator mobile phone
The super administrator is: dasmego



Click on Personal Center:


Well, 18612888118 was still bound two days ago, but there is no binding now. I think that the basic data masterdata of Aifanfan and Shangqiao and the customer login page read the old and new versions of masterdata, there are data synchronization problems and consistency updates question.
The administrator mobile phone is successfully bound

Finally, the binding is done, and you can return to the interface of the applet Aifanfan for binding.
Step XNUMX: Continue to change the binding
The password is retrieved, the phone is re-bound,
Still reporting an error that the super administrator phone number is empty
Hint: super admin phone is null Translation: super admin phone is null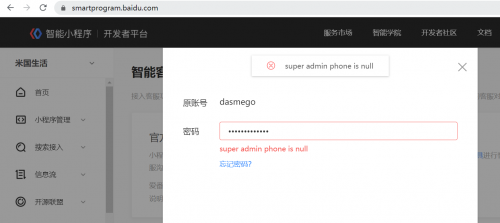 The possible impact of program errors on Baidu optimization
Now you understand why no matter how hard you tryBaidu optimizationAre they all going around in circles?
You optimize yours, programmers do programmers.
Looking at the document again, and looking back on the operation just now, I can't figure it out. Wouldn't it be possible to trigger an update?No one posts, you always have to get it, even if you can't get it,...
Afraid of delay, repeated login



So: Depression aggravated, the burden on the heart increased, and I couldn't control my mouth... Shouting: Sister Qiuxiang~~~
If so, who will pay for the medical expenses?programmer'scode gunBe merciful, if you are asked to develop robots,...
Server related knowledge:
Programmers develop industry terms and advice:
Do you know what a production environment is?
Product Environment
Do you know what a production server is?
Product Server
Know what is a development environment and a development server?
Development Environment, Development Server
Know the deployment process from development to production?
Development is completed, after code testing is completed, enter the Integration environment to complete the integration test. User testing and public testing have bugs. Go back to the Development environment to continue modifying the code, test again, and finally deliver the Product Server. The Product environment is a finished product library/product library, and should not store semi-finished products or Defective products and semi-finished products should be stored in the semi-finished product warehouse, and the defective products can not be reused and should be stored in the waste product warehouse to feed the downstream waste collection industry. .The production of Internet products should learn from the production enterprises in the Northeast Heavy Industry Base, of course, especially the military enterprises.
Extended reading:
How to delete redundant codes of Baidu Statistics and Baidu Business Bridge Aifanfan?